BLOG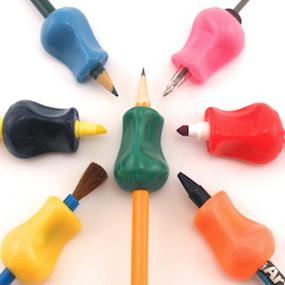 Pencil Grip: Assist children with disabilities to write and draw
Children with disabilities are special children and like any other child they also deserve to live a normal life filled with fun and frolic. However, the normal day to day things that we use in our lives are not at all suitable for them and they face problems in handling those things. Thus they need special equipments which will help them to carry out the regular day to day things. It is for this reason that they need writing aids. They cannot write or draw with normal crayons ass they will fail to get the proper grip. There are some very innovative writing and drawing aids that will help these children to carry on with their day to day tasks properly.
Writing and drawing aids for children
The special needs children cannot hold a small or thin pencil or crayon and hence need thicker things that will help them to grip properly. It is for these reasons that grippers of various types are available in the market for this particular purpose.
CLAW pencil grip- This is a revolutionary sort of grip which will help the children to place their fingers in the proper position around the pencil and thus will help them to write and draw perfectly. Available in a variety of sizes, it can be used by children and adults. It can be played around a crayon or a pencil which takes away the focus from holding the pencil or crayon correctly to the task at hand. This is specially made for children suffering from problems like deformities, disabilities, ADHD and autism. However, this grip requires a little practice.
The classic form grip- This is a thick grip around the pencil which helps the child to hold on to the pencil properly and hence they can write in a better way. The classic form grip is made up of foam which helps one to hold on to the pencil in a better way without causing one's fingers to slip. Available in a lot of bright colours, the grips are visually impressive as well.
The heavy weight pencil- The heavy weight pencil is an ergonomic instrument which facilitates the people with hand health problems to hold on to the pencil properly. It is meant for both children and adults. This heavy weight pencil is very balanced and hence prevents any kind of slips or problems of holding the pencil properly. This pencil already comes preloaded with leads.
Bumpy grip- The bumpy surfaced grip is a form of pencil grip which helps the child to get tactile feedback. It is meant to promote proper gripping on the pencil and also prevents fatigue because it promotes a comfortable hold on the pencil.
Thus, using these aids is a necessity if you want to keep your special children comfortably. Solve their wiring and drawing problems by using these aids which will help them to perform even better in their schools. Bring out their creative side with the help of these aids.